THIS BOXING BALL HELPS EVERYONE ACTIVE 
WHILE HAVING FUN!
Boxing Reflex Ball TRAINING KIT CONTAINS A stretchable band tied to a lightweight ball and an elastic Headband. Simply tie the ball to the elastic Headband provided (or your own cap) and you are ready for a great time away from video games!. As the Training Kit is suitable for both kids and adults, you may need to adjust the length of the stretchable band to suit your own need, if necessary.
TIPS FOR BEGINNERS: Take your time, hit softer at first and have fun!
FEATURES:
Keeps your kids 

entertained

 for hours.

Improves hand-eye coordination.

Healthy alternative to computer and 

video games

.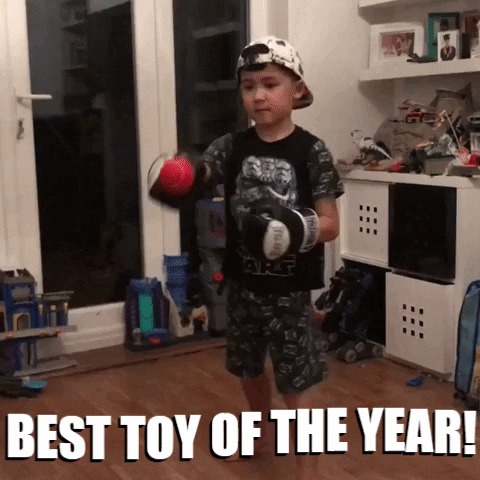 Adjustable headband 

suitable for all ages!

Lightweight and

 portable 

for any road-trips.
Rated '

Best Toy of the Year

' for 2019, by parents worldwide.
THE BEST WAY TO IMPROVE YOUR REACTION TIME & SPEED! – You don't have to be a professional boxer to use Boxing Reflex Ball ! It's the perfect training equipment that will increase your agility, concentration and reflexes while providing an intense workout!

BURN CALORIES & RESHAPE YOUR BODY! – Lifting weights and long hours on the treadmill is not the only way to get fit! In fact, Boxing Reflex Ball might be even better and far more compelling. The unpredictability of the ball, coupled with the intensity of your punches will really burn out your arms, chest, shoulders and upper back, perfect for calorie burning and conditioning!

WORK OUT ANYWHERE! – Don't have time for the gym? With this boxing reflex ball, you don't have to!

 

The boxing ball made with natural rubber and polyester fibre is resilient and durable. Punch it with bare hands as it's soft outside and poses no risk to your eyes and hands.

Train from home or even from work! It's lightweight and portable, which means you can carry it virtually everywhere with you! No more excuses...simply adjust the headband and you're ready for your daily workout!

SUITABLE FOR EVERYONE! – Man or woman, teenager or child...it doesn't matter! Everyone can use Boxing Reflex Ball either for training purposes or for a fun game that will build your hand-eye coordination and it will nicely compliment your MMA, boxing or kickboxing training!
WHY SHOP WITH US?
Because we pay particular attention to the choice of our products.
They must be innovative and very good quality.
Our items are tested and approved by our service.
Safe payment methods
As a Uvavsu brand, We are passionate and we make every effort to make you happy!
Free Shipping on all orders to Worlwide.